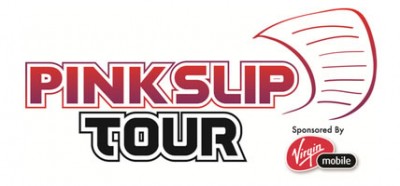 You are invited to the following event: Pink Slip Party – Pink Slip Tour Sponsored By Virgin Mobile
Tuesday, June 29, 2010 from 4:00 PM – 8:00 PM
Blue Martini
900 South Miami Avenue
Miami, FL 33130
Can you attend this event? Respond Here
Did you know that in today's job market many local employment openings never make it to the web and go unadvertised? In fact, today's jobs are being discovered through social networking both in person and online.
The Pink Slip Tour, sponsored by Virgin Mobile, is a jobs tour presented by JobsDirectUSA to connect career professionals with hiring companies across multiple U.S. cities. Each event is free to attend; there will also be mobile phone giveaways courtesy of Virgin Mobile.
If you've never attended a Pink Slip Party before, the way it works is simple; Job Seekers and Recruiters network one-on-one from 2 to 5 minutes at a time – think of the concept "speed dating for jobs".
This is the most fun, casual and laid-back job interview experience you will ever attend – we guarantee it!
In addition, Entertainment Correspondent Kelly Blanco will be on site interviewing Job Seekers throughout the evening as they walk down the 'Pink Carpet' to mingle with local hiring managers and recruiters.
Job Seekers should bring copies of their resume, dress to succeed and practice their 30 second commercials before attending. Remember, you might be speaking to your potential next employer before the night is over!
To learn more on how Virgin Mobile can help you stay connected and save please visit www.virginmobileusa.com
For more information please contact JobsDirectUSA at (904) 239-5466 or by email at events@pinkslippartying.com