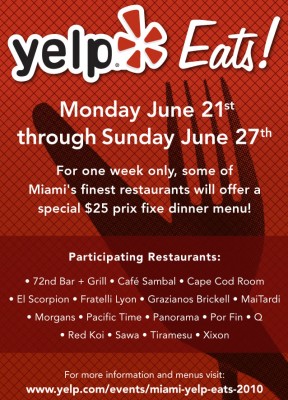 Yelp Eats!
Kicks Off the Week of 6/21 – 6/27
$ 25 three-course prix fixe menus at more than a dozen Miami restaurants
Starting Monday, June 21 through Sunday, June 27, 2010, we are hosting our first ever Yelp Eats! in Miami. Twenty-five dollars includes a three-course meal (dinner time only) with your choice of appetizer, entree and dessert —many with vegetarian options— at a variety of yelper-approved establishments.
Participating Restaurants Include: Cape Cod Room, MaiTardi, Morgans, Red Koi, Por Fin, Sawa, 72nd Grill
Menu and Website: You can check out brief menu descriptions on the official event listing. Restaurants are now accepting reservations, so make yours today!
A Few Reminders:
1. Call to make reservations, and request the Yelp Eats! menu
2 $25 does NOT include tax/tip or additional items and beverages
3. Spread the word. This deal is open to all!