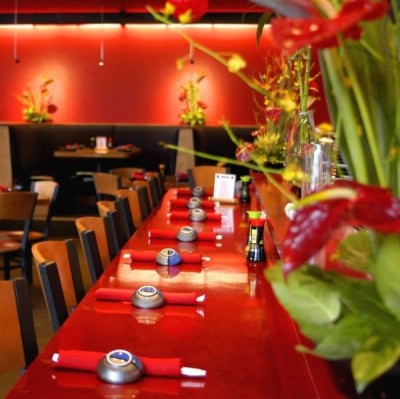 RA SUSHI HONORS INTERNATIONAL SUSHI DAY WITH COMPLIMENTARY TOOTSY MAKI
RA Sushi in South Miami: 5829 SW 73rd St. across from The Shops at Sunset Place.
On June 18, 2010
On June 18, 2010, RA Sushi Bar Restaurant is celebrating International Sushi Day, an informal holiday created to encourage sushi lovers around the world to eat more sushi. In honor of this special day, anyone who "likes" RA Sushi on Facebook can print a special offer good for one complimentary Tootsy Maki.
The complimentary Tootsy Maki Facebook coupon must be printed and redeemed on June 18, International Sushi Day, and will be valid at RA Sushi in South Miami: 5829 SW 73rd St. across from The Shops at Sunset Place.
Tootsy Maki is one of RA Sushi's most popular rolls containing kani kama crab mix, shrimp and cucumber, rolled and topped with crunchy tempura bits and drizzled with a sweet eel sauce. This signature roll is typically offered for $8.25 and will be free on International Sushi Day for those who "like" RA Sushi on Facebook. The Facebook coupon can be printed beginning at 12:01 a.m. on June 18 and is good for that day only (see the coupon for official rules and details). Visit RA Sushi's Facebook page at www.facebook.com/RAsushiSouthMiami.
Sushi's presentation has evolved over the years, when it began as a means of preserving raw fish in Southeast Asia and eventually became a form of "fast food" sold from street vendors. Now a celebrated cuisine worldwide, sushi has become an art form, with each restaurant offering its own signature dishes of nigiri, sashimi, and maki. On International Sushi Day, sushi connoisseurs and sushi novices are encouraged to dine on their favorite RA Sushi dishes or explore the menu and try something new!
All 25 of RA Sushi Bar Restaurant locations nationwide will participate in International Sushi Day. To make this holiday even more official, RA Sushi has declared June 18 as International Sushi Day in Chase's Calendar of Events, the most comprehensive and authoritative reference available on special events, worldwide holidays, civic observations, and more. International Sushi Day will appear in the 2011 edition of Chase's Calendar of Events.
RA Sushi Bar Restaurant, an upbeat, unconventional sushi bar, opened its first location in Scottsdale, Ariz. in October 1997. RA is best known for successfully combining distinctive sushi with a trendy, hip atmosphere. Fresh sushi is served sliced to order along with outstanding Japanese-fusion cuisine in a fun, energetic environment. The result is a place that is both unpretentious and fashionable.
RA Sushi in South Miami is located at 5829 SW 73rd St. across from The Shops at Sunset Place. Lunch is served from 11 a.m. to 3 p.m., and dinner from 3 to 11 p.m. Monday through Wednesday and 3 p.m. to midnight Thursday through Sunday. Happy Hour food and beverage specials are offered Monday through Saturday from 3 to 7 p.m., and the bar remains open until 1 a.m. or later. RA Sushi's Flying Fish Lounge is the perfect place to catch some fresh fish and drink specials. On Sunday nights from 8 p.m. to midnight, RA-goers visiting the Flying Fish Lounge will find Happy Hour specials on sushi and drinks.
For more information, visit RA online at www.RAsushi.com.