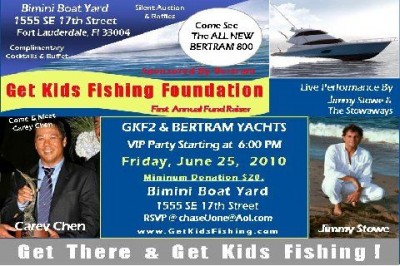 Get Kids Fishing 1rst Annual Fund Raiser
June 25, 2010, 6:00 PM
Non Profit Fund Raiser
Bimini BoatYard
1555 SE 17th Street Causeway
Fort Lauderdale, FL
954 525 7400
www.GetKidsFishing.org
Get Kids Fishing…
All Proceeds will go to Get kids Fishing Foundation, which teaches kids not only the true beauty of the outdoors, but marine conservation & the environment.
Let's Get Kids Fishing and Be There!
Food, Drinks & a Vip Party start at 5:30 PM, Sponsored by Bertram Yachts, Bimini BoatYard, Hightower & Associates, Dania Lions Club and much more.