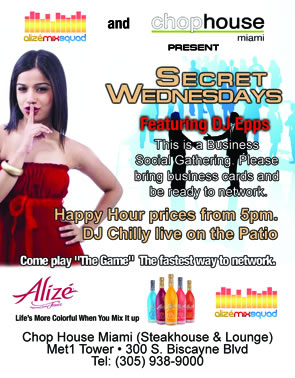 Secret Wednesdays
Chop House Miami
300 S. Biscayne Blvd,
Miami, FL-33133
www.chophousemiami.com
Produced and presented by Tony Major Events, Inc., "Secret Wednesdays" takes place at the Chop House Miami every Wednesday from 5:00pm to 11:00pm.
"Secret Wednesdays" is a business social network party, with main clientele being bussiness people from enterpreneurs to executives and government workers.
After networking, everyone is encouraged to have dinner and/or socialize at the bar area.
Tony Major Events, Inc. presents the network game to achieve the same results as speed networking.
This event draws on average of 150- 200 people every week.
Located in the heart of downtown Miami, and right accross the street of Bicayne Bay, Chop House Miami not only provides the convenient and easy accesss but also beautiful views, making this location excellent for cocktail parties and outdoor dining events.
The restaurant is divided into several multifunctional rooms that offer different setting for a perfect event.
The Main Dining Room Accomodates 100 people
The Club Room Capacity: 50 people for seated dinner
The Inside Bar is divided into two areas:
Hi-top Area 75 people for cocktail reception
Back area 40 people for cocktail reception
The Patio Bar: Capacity: 100 people
Furnished with stylish lounge chairs and wrap-around bar providing beautiful views of Biscayne Bay
The restaurant ranks perennially among North America's Top 10 Steakhouses.
It was voted Top 3 Steakhouse in the Miami Herald in 2009.
It was voted Best Power Lunch in Miami New Times in 2009
It is rated Top Five in the U.S. by the Zagat Guide.
It is named on of America's top Steakhouses by both the Knife and Fork Club and the Independent Cattleman's Association