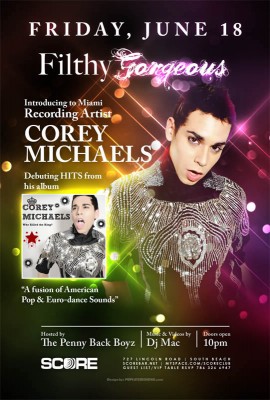 DANCE RECORING ARTIST COREY MICHAELS DEBUTS HIS NEW ALBUM WHO KILLED THE KING? AT SCORE
Friday, June 18, 2010 10 p.m.
SCORE Nightclub
727 Lincoln Road
Miami Beach, FL 33139
305.535.1111
Miami-based recording artist Corey Michaels will celebrate his debut album, Who Killed the King?, with an exclusive performance at Miami Beach nightclub SCORE on Friday, June 18 at 10 p.m. Corey will perform tracks from Who Killed the King? as part of the popular Friday night party, "Filthy Gorgeous." The album is described as a fusion of American pop music with Eurodance sounds as each song is a pulsating club banger. Guests can expect a wild set that is sure to entertain the crowd. Who Killed the King? is available now at the iTunes Store.
"This album is a labor of love for me. Each track explores the joys along with the consequences of personal liberation set to a background of club-rousing beats," says Corey.
Corey Michaels has written and produced pop/dance music for over six years. After living in Amsterdam, NL he moved back to Miami, FL in the fall of 2008 and began recording Who Killed the King?. Corey has performed all over the world including Exit Club and Piano Bar in Amsterdam, NL and the Florida International University "Break the Silence" pride event. He most recently performed at Wynwood hotspot Cafeina at the "God Save the Queen" party. For more information on Corey Michaels, please visit www.coreymichaels.com or find him on Facebook. Fans can also follow him on Twitter at @coreymichaels.