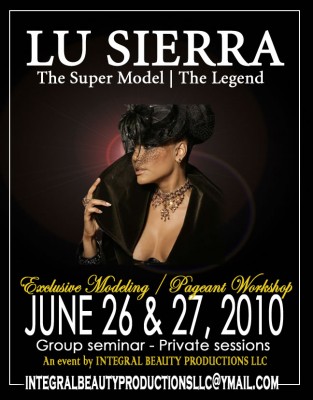 Intensive Modeling Workshop with Supermodel Lu Sierra
June 26, 10 a.m.
Hilton Miami Downtown Hotel – 1601 Biscayne Blvd. Miami, FL
www.earthfloridapageants.com/lusierra
Intensive training workshop for those who want to succeed in the modeling or pageantry industry.
Lu Sierra – best runway coach in the world, supermodel, coach for Miss USA & Miss Universe, trainer of FORD super model of the world winners. Lu is one of Elite Model Management top talents and a modeling coach for different world modeling agencies.
Workshop will be adjusted according to the participants' goals in either modeling or pageantry industries.
For Experienced And Non-Experienced participants.
—– How To Really Rock A Runway – All techniques & foot work
—– Breaking In The Modeling World
—– Staying Strong In The Industry
—– From Being Just Another Model To Becoming A Super Model
—– How To Book Paid Jobs
—– How To Set Your Rates
—– How To Brand Yourself
—– How To Create Your Unique Style & Look
—– Why You Are Not At The Top Yet — There's More To Go!
—– How To Conquer The International Market
—– How To Go From Print To Runway Or Do Both
—– How To Get Published In Top Quality Magazines
—– Why Presence Is All
—– How To Choose Your Agency
Open To Everyone – experienced or not.
Everyone 12 years old and older.