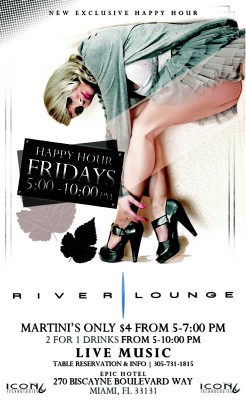 ONE YEAR LATER AND RIVER LOUNGE IS STILL MIXING IT UP
Launching a brand new happy hour and lots of other surprises
Recognized as one of the chicest places to have a cocktail, River Lounge has established a name in South Florida as one of the premiere lounges in the city. When the venue opened its doors, all were excited to view its lovely décor, classy ambiance and gorgeous view of the Miami River. With its 30ft ceilings, LED lighting, circular bar, flat screen TVs, custom lighting fixtures, outdoor and indoor seating and custom lounge furniture the venue became a favorite for Miami's affluent professionals. A year later and River Lounge is mixing' it up for patrons.
Launching on Friday, June 11, 2010 "Happy Hour on The River" will commence from 5:00PM-10:00PM offering live music and 2 for 1 drinks. For the martini lover, $4 martinis will be available from 5:00PM-7:00PM. So whether shaken, stirred or fruit flavored, there will be a delicious choice for every taste.
River Lounge was a concept created by Sunset Entertainment Group's dynamic duo Chris Breed and Michael Gruber. These gentlemen have a track record that truly reinforces why River Lounge rapidly became a Miami hotspot. With such successful and legendary venues as The Tropicana, Teddy's at the Roosevelt Hotel, Cabana Club, Sterling Steakhouse, Green Door, and the White Lotus, South Florida rapidly embraced their different approach to nightlife.
With a one year anniversary now approaching, the venue will unveil a series of spectacular changes. "Change is what the area is all about. We came into Downtown before a few others jumped on board. We took the risk, as we knew that Miamians wanted more; more class, more beauty and we wanted to provide them with a lovely venue that exemplified relaxed elegance," said Michael Gruber.
New features will include live music, weekly art events, on-going fashions shows, guest DJs and a re-vamped Happy Hour. With this "re-vamp" those who wish to sip a cocktail after work can expect that and then some as the River Lounge team will provide them with all the reason to come out after a rough day at the office.
Located in Downtown Miami and away from South Beach, this gorgeous space will continue to cater to the active professional, corporate and social scene as it has for the last several months. But will continue to please the most discerning of Miami patrons by updating the already unique cocktail list and adding even more choices to the signature martini list.
With all the new tweaks and oh so fab new events set in place, River Lounge will gear up to celebrate an electrifying one year anniversary this August. For those who got on the list for their huge grand opening, expect a soiree just as big if not bigger. "To please the South Florida patron, you have to mix up a lot more than your martinis. "You have to [always] keep it fresh. Here we offer them casual elegance," said Shawn Finkel, general manager of River Lounge.
River Lounge is located inside the Epic Hotel & Residences located at 270 Biscayne Boulevard Way, Miami, FL 33131.