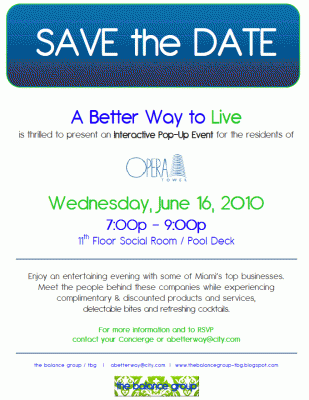 Wednesday, June 16th, 7pm-9pm
Opera Tower
1750 North Bayshore Drive
Miami, FL 33132-3203
(11th Floor Social Room/ Pool Deck)
RSVP or for more info.: email us at abetterway@city.com
After a successful launch event for the residents of Murano Grande & ICON in South Beach last month, A Better Way to Live is now hosting an interactive pop-up event at The Opera Tower on Wednesday, June 16th.
This event will provide Opera Tower residents and MIAU Fashion customers with the opportunity to shop, network, and simply have fun! A Better Way to Live creates the perfect setting for guests to get to know local businesses, receive exclusive offers, special treatments, and complimentary services + products. It is also a great time to mingle with the business owners and representatives!
This will take place right on time for MIAU Fashion to introduce its new Summer inventory!
We hope to see you there!