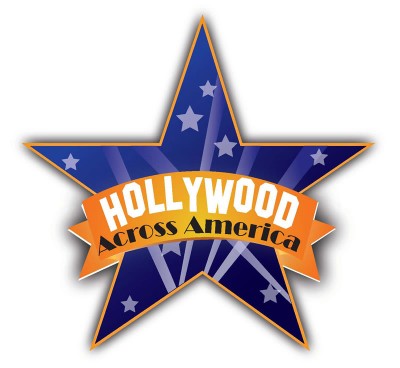 HOLLYWOOD ACROSS AMERICA BRINGS MAJOR CASTING DIRECTORS AND AGENTS
TO SOUTH FLORIDA IN SEARCH OF NEW TALENT
Hollywood Across America, a hands-on workshop and showcase led by entertainment industry veterans, is coming to South Florida on June 26 & 27, 2010. Local actors, models and other aspiring talent interested in learning from some of Hollywood's top industry professionals will enjoy a weekend full of seminars, coaching and performances at Miami Beach's Sea View Hotel.
The two-day event features Hollywood's most acclaimed Casting Directors and Agents who will observe, advise and guide local aspiring talent. "South Florida has a thriving theatrical community poised for stardom. Movies and television shows like Burn Notice, CSI: Miami and Marley & Me have definitely brought attention to this city, which makes it a great stop for our national tour," said Marc Pritcher, co-founder, Hollywood Across America. "We want to help people outside of Los Angeles get the opportunity to showcase their talents and receive constructive, positive feedback. Why bother trekking to Hollywood when we can bring it to you?"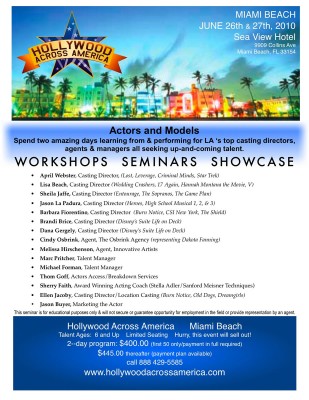 Aspiring actors will also get the chance to perform before the savvy professionals behind the famous faces in magazines, popular television shows and films. "Our workshops give you the tools you need to make it in Hollywood…essentials including how to obtain great representation, how to market yourself, how to execute a cold reading or everything parents of young children need to know about the business," Pritcher adds.
LA Faculty appearing in South Florida includes:
· April Webster, Casting Director for Star Trek, ABC's Lost, CBS's Criminal Minds, TNT's Leverage
· Lisa Beach, Casting Director for Wedding Crashers, 17 Again, Hannah Montana The Movie, V
· Sheila Jaffe, Casting Director for Entourage, The Sopranos, The Game Plan
· Jason La Padura, Casting Director for Heroes, High School Musical 1, 2 & 3
· Barbara Fiorentino, Casting Director for Burn Notice, CSI New York, The Shield
· Brandi Brice, Casting Director Disney's Suite Life on Deck
· Dana Gergely, Casting Director Disney's Suite Life on Deck
· Cindy Osbrink, Agent from The Osbrink Agency (representing Dakota Fanning)
· Melissa Hirschenson, Agent from Innovative Artists
· Marc Pritcher, Talent Manager
· Michael Forman, Talent Manager
· Thom Goff, Actors Access/Breakdown Services
· Jason Buyer, Marketing The Actor
South Florida Faculty appearing at the event includes:
· Sherry Faith, Producer of Hollywood Across America: South Florida. Award Winning Acting Coach (Stella Adler/Sanford Meisner Techniques)
· Ellen Jacoby, Casting Director/ Location Casting for Burn Notice Old Dogs, Dreamgirls
"Hollywood Across America is the real deal," says Jason Buyer co-founder, Hollywood Across America. "There are no hidden charges, no mandatory classes, no pre-screening gimmicks. Everyone we bring from L.A. loves discovering new talent."
Hollywood Across America's South Florida stop follows the seminar's successful, sold-out debuts in Los Angeles and Dallas in 2009. The two-day event will be held at the Sea View Hotel (9909 Collins Ave. Miami Beach, Fl 33154) on June 26 – 27 from 9 a.m. until 5 p.m. each day. Tickets cost $400 for the first 50 participants who register (payment in full required) and $445 thereafter (payment plans are available). Talent ages: 6 and up. To purchase tickets or for more information, please go to http://www.hollywoodacrossamerica.com or call (888) 429-5585.