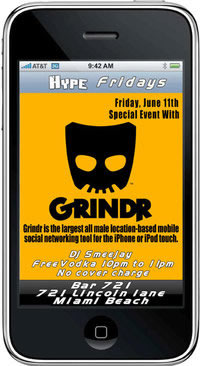 Grindr Party @ Hype Fridays!!!
Friday, June 11th 2010, 10:00pm
Bar 721
721 N Lincoln Lane, Miami Beach, FL 33139
Have an iPhone or iPod touch? Download the free Grindr app to meet guys around you. With over 400,000 guys around the world, Grindr is the hottest & biggest network of guys on the iPhone. Go to www.Grindr.com to download the free app today
"HYPE" Fridays is South Beach's hot, new Friday night!
Free vodka drinks 10pm to 11pm.
Vodka bottle special $125!
Smoking is not permitted inside the venue.
There is no cover charge.
DJ Smeejay
8pm to 10pm
Enjoy the sounds of MARYEL EPPS performing live!
www.bar721.com
For more info, go to: www.sobesocialclub.com
Thank you for using Soul Of Miami!