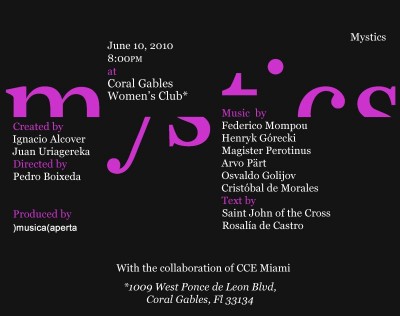 Music & Theater. Mystics
Thursday June 10 / 2010 @ 8pm.
With Música Aperta
At Coral GablesWomen's Club
1009 West Ponce de Leon Blvd.
RSVP: 305-448-9677
MUSICA APERTA
Musica Aperta – Latin for "Open Music" – is a performance arts ensemble that has delighted audiences in WashingtonDC since 2002. Musica Aperta's productions entertain and challenge audiences by presenting music along side complementary art forms such as drama, dance, and the visual arts. Musica Aperta's belief is that music is relevant to all of us and that the barriers to a deeper experience of music – such as the formality and protocol of the concert – can be transcended by the innovation, energy and openness it brings to its performances. Musica Aperta's activities are funded in part by the DC Commission on the Arts & Humanities, an agency supported in part by the National Endowment for the Arts.