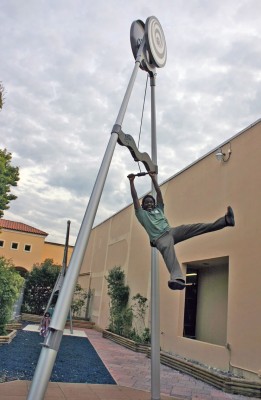 MIASCI CELEBRATES NATIONAL YO-YO DAY SUNDAY, JUNE 6th WITH 2001 NATIONAL YO-YO MASTER JENNIFER BAYBROOK
Sunday, June 6, 2010
1:00 p.m. – Jennifer Baybrook Yo-Yo Show.
1:30 p.m. – Yo-Yo Workshop with Jennifer Baybrook.
2:30 p.m. – Yo-Yo Workshop with Jennifer Baybrook.
10 a.m. –6 p.m. – Human Yo-Yo in the MiaSci Energy Garden.
Miami Science Museum
3280 South Miami Avenue
Miami, FL 33129
Celebrate National Yo-Yo Day at Miami Science Museum this Sunday, June 6th from 10 a.m.-6 p.m. Jennifer Baybrook, the 2001 National Yo-Yo Master and 1998 World Yo-Yo Champion (first woman to earn the title), will be at MiaSci to teach workshops and also to perform a show with her most impressive tricks set to music.
In addition to the performance and workshops, visitors can check out our Human Yo-Yo in the MiaSci Energy Garden and fly 10 feet up in the air! The Human Yo-Yo is part of the Energy Tracker exhibit MiaSci is developing as a prototype for the new Museum. (Please see attached photo.)
The Miami Science Museum aims to make a difference in people's lives by inspiring them to appreciate the impact that science and technology can have on every facet of our world. The Museum is accredited by the American Association of Museums and is an affiliate of the Smithsonian Institution. Miami Science Museum will be moving to a new state-of-the-art facility in the heart of Downtown Miami in 2014. Museum Park, which will be home to the new Miami Science Museum and Miami Art Museum, will combine science and art in an unparalleled waterfront experience. For more information about the Museum and our New Museum project, visit http://miamisci.org.
Jennifer Baybrook has been amazing audiences around the world as a professional yo-yo performer since she was eight years old. Making her professional debut with the Smother's Brothers in 1989, she began a world performance tour that consisted of appearing at schools, fairs, festivals, civic organizations and on special event stages in 14 countries and 30 U.S. states. Her repertoire consists of over 300 different yo-yo tricks ranging from old favorites like Walk the Dog and Rock the Baby to amazing feats with two yo-yo's at once. She offers entertaining, motivational or educational science programs for a variety of organizations and events. She became the first female to win the National Yo-Yo Contest, the World Yo-Yo Contest and was awarded the title of National Yo-Yo Master, joining the ranks of an elite small group of yo-yo demonstrators. For more information, visit: http://jenniferbaybrook.com