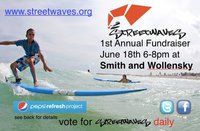 StreetWaves 1st Annual Fundraiser and Silent Auction
June 18, 2010, 6:00 p.m. – 8:00 p.m.
Smith and Wollensky
1 Washington Avenue, Miami Beach, FL
http://www.streetwaves.org
Street Waves mentors and empowers high risk urban youth by teaching them the art of surfing. Street Waves exposes inner city kids to the ocean, teaches them how to swim, and then coaches the kids in surfing and stand up paddle boarding. The majesty of sea and the mastery of surfing foster essential life-skills, cultivates courage, commitment, and self esteem, while at the same time enriching and expanding the outdoor experience of Streetwaves' students. StreetWaves is in need of a van to transport the kids and equipment and to that end it's holding a fundraiser on June 18th at Smith and Wollensky on South Beach. Only a $20.00 minimum donation. Open bar generously provided by Bacardi, hors d'oeuvres graciously by Smith and Wollensky. For more information about StreetWaves go to http://www.streetwaves.org/ For those who cant make it please consider making a donation online, it's truly a great group, making a beautiful impact in our community.