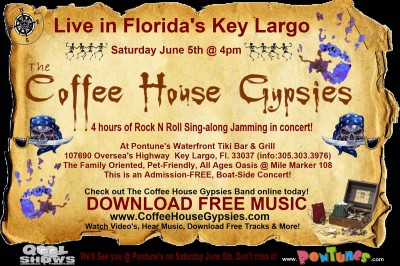 Saturday, June 5th, 5:00 PM till 9:00 PM
Pontunes Tiki Bar and Marina
On Saturday, June 5th The Coffee House Gypsies (award winning rock band from Miami who won nine Status QuO Live Music Awards in 2008) are coming to Key Largo for a four hour-long boat-side concert at Pontunes Tiki Bar and Marina which will last from 5:00 PM till 9:00 PM.
The Miami Herald and Miami New Times both compared The Coffee House Gypsies to the likes of Fleetwood Mac and The Mamas and The Papas, calling them a "quintessential jam band" while music critics said things like "the music of the Coffee House Gypsies from the Southern tip of Florida is as magical as their name implies." The band also won the 2009 award for "Best Pop Band" at the South Florida QOOL Shows Awards.
The Largo show on Saturday promises to feature songs from The Gypsies previous two LP releases, as well as some fan favorites from their latest album "The Artist." The performance will also sport some new songs expected to be on the new upcoming CHG album, and there will surely be some of the typical gypsy-jamming and improvising on stage as well. The band also boasts a collection of 60 covers that they call pull from during the show. The show is admission free and all ages are welcome to attend.
During the concert Pontunes offers a free sunset cruise to anyone wanting to tour Largo aboard The Queen Anne's Revenge II ship. Guests should call ahead to reserve their spot on the boat (305-451-0864) and arrive 90 minutes prior to sailing for sign-in.
The Coffee House Gypsies invite everyone to visit www.CoffeeHouseGypsies.com and download some FREE original music before the show. The website also features live videos and more.
For more information please contact Mr. Oski Gonzalez at therockthursdays@yahoo.com.