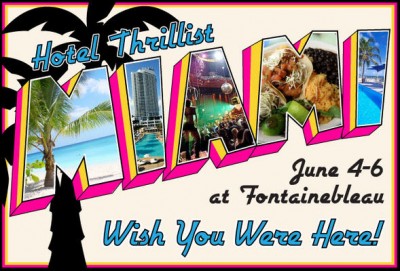 Get a second shot at Hotel Thrillist
Saturday, June 5, 2010
11:00am – 4:00pm
Hotel Thrillist Miami
Click here to enter
Win and get access to all of Saturday's beach-front good times: getting stuffed at BBQ showdown between Red, The Steakhouse & Gotham Steak, BACARDI® Cocktail mixing sessions with the Resident Mixologist, and a bizarre contest to win a year's supply of Klondike® bars.
Then get busy with Miami Capoeira Project-led lessons on the world's most dangerous dance (besides the Lawnmower); a Scratch DJ Academy with the city's sweetest beat-layers; a Sony® Cyber-shot® photobooth cabana; a poolside concert with Corona Extra® and Kat Deluna; and comedown massages by the pros at Equinox Fitness Clubs.
Winners will be notified via email by Wednesday, June 2.
Must be 21+ to attend.
DRINK RESPONSIBLY.