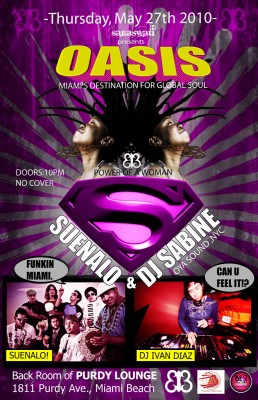 This Thursday, May 27th we are proud to present an amazing lineup for OASIS @ PURDY LOUNGE.
Miami's favorite band SUENALO will be hitting us with a dose of their AFRO-LATIN BABY MAKIN' DESCARGA FUNK and DJ SABINE will be joining us from NYC to bring us that GLOBAL SOUL FLAVOR that will keep our bodies moving all night long.
We are excited to welcome our first female Global Soul DJ to play at OASIS and when you see SABINE rippin' those decks you'll know just why we brought her to Miami.
This killer combo is sure to be a sweat drippin, heart pumpin, journey into the Afro-Latin percussive beats that inevitably make even the stiffest mutha* move so don't forget your dancing shoes!
For a little taste of what Sabine is throwing down check out:
DJ Sabine's Podcast
THIS THURSDAY come EXPERIENCE what MIAMI is calling THE BEST DANCE PARTY OF 2010 in one of the best venues in Miami~ Purdy Lounge!
This event is presented by: Saraswati Miami
Miami Nightlife