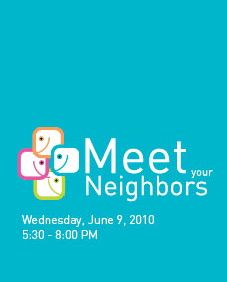 Downtown Miami Partnership and Miami Downtown Development Authority would like to welcome you to a special Meet Your Neighbors!
Segafredo and Brickell Irish Pub
Wednesday, June 9, 2010
5:30 – 8:00pm
This is your opportunity to make new friends and get to know your DWNTWN. Join Mayor Tomas Regalado and Stella M. Holmes with Brickell Gallery Night in unveiling three original Downtown Miami signature Paintings by atist's, Emilio Sauma, Fernando Sucre and Cesar Garcia. Both restaurants will serve up tasty nibbles and Grey Goose will be serving drinks. We've taken care of everything you just need to bring yourself and
Meet Your Neighbors!
If you are riding the MetroMover use the Financial District Station.
Please RSVP at 305-379-7070 or by email to info@DowntownMiami.net