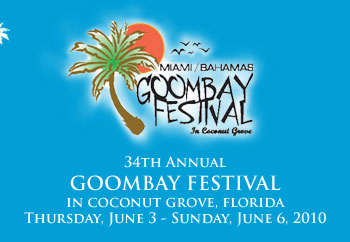 The Miami/Bahamas Goombay Festival
June 3rd – June 6th, 2010
Coconut Grove, Florida
The Miami/Bahamas Goombay Festival in Coconut Grove, Inc. is a celebration of culture expression embracing the legacy of a Bahamian-rooted community known as Coconut Grove. The street festival transforms Grand Avenue into a journey across the ocean, creating a perfect harmony on a rich Caribbean culture of the Bahamas and the strong African-American vibes of Miami. Over the years, the festival has become a signature event including a historical luncheon for the pioneers, a children's corner, where kids read stories and make junkanoo costumes, a colorful parade of energetic, brightly costumed people gyrating and dancing to the rhythmic accompaniment of cowbells, drums, and whistles. Vendors prepare to share their authentic Bahamian and American cuisine in booths that align the streets.
Thursday, June 3, 2010
6 p.m. until 10 p.m.
Pirates's Reception With The Goombay Family
Place: Chilis at Coco Walk in Coconut Grove
Friday, June 4, 2010
12 noon
Clean – Up (South Dade Class of 69)
Coconut Grove Cemetery
Time: 5:30 p.m. until 10:00 p.m.
The Honorable Miami/Bahamas Goombay Host Committee Consul Gladys Johnson-Sands, Chair, Government of the Bahamas Rev. Dr. Preston W. Marshall, Jr. Goombay Honorable Host Committee Chair The Miami/Bahamas Goombay Festival Committee
Presents the
Official Kick Off Of The 34th Goombay Festival
Invitation Only!
Place: (Mayfair) 2911 Grand Avenue,
Coconut Grove, FL
Saturday, June 5, 2010
11 a.m. until 2:00 p.m.
Historical/Pioneer Brunch
Christ Episcopal Church
10:00 a.m. until 6:00 p.m.
Lil Bahamas "All Tings Bahamian" Cultural Village And Straw Market
Coconut Grove, Florida
Grand Avenue, Shops of Mayfair
(Come out and Welcome our Bahamian Family)
8:00 p.m. until 1:00 a.m.
"Stepping Back To The Bahamas"
Goombay Grown Folks Dance
Featuring "Chico The Leo"
Place: TBA
$10.00 in advance – $20.00 @ door
Sunday, June 6, 2010
11:00 a.m. – 1:00 p.m.
Goombay Festival Gospel Service
The Macedonia Missionary Baptist Church
in Coconut Grove
3515 S.W. 37th Avenue/Douglas Road
12:00 noon until 8:00 p.m.
Goombay Street Festival
Grand Ave/ Douglas Rd
SW 37th Ave. – 32nd Ave/McDonald
The Worlds Largest "Stepping" Party