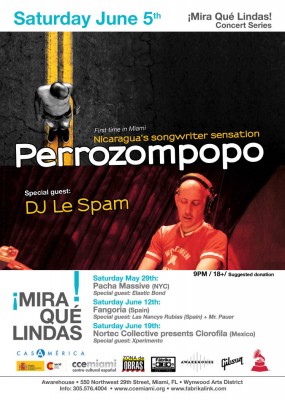 Perrozompopo and DJ Spam
Saturday June 5 / 2010 @ 8pm.
Program to strengthen Cultural Industries
Free Admission. Suggested donation $10
At The Awarehouse
550 Northwest 29th Street, Miami, FL 33127
More Info.
The work of songwriter and singer Ramon Mejía (PERROZOMPOPO) is hugely marked by the recent history of Nicaragua. War, poverty, dictatorship, Church, the lack of education, friends, love, disappointment, and many other concepts and experiences are mixed with rock, melodic ballads, rap and reggae in a clear vindictive music. Perrozompopo, brother of the singer Luis Enrique, performs a urban Latin American music that talks about the stories of people that crowd the streets of many impoverished Central American cities.
DJ SPAM blends improvisational electronic elements and turntables with latin, funk, hip hop and dub to create what he calls an electronic descarga. It's not a known genre. It's hard to describe. It attracts many types of people. But as you look out and see people dancing salsa, next to break-dancers, and festival-goers driving for hours to catch a show – you know something very special is going on.