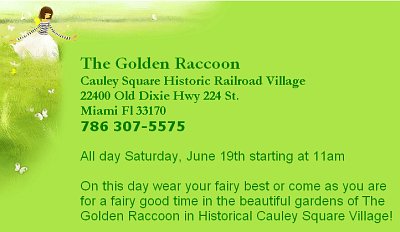 Join us at The Golden Raccoon for a magical day of frolicking with the fairies!
All day Saturday, June, 19th, 11am to 8pm
Golden Raccoon at Cauley Square
22400 Old Dixie Highway
Just off US1 & SW 224th Street.
http://MysticalFlorida.com
Full day $85.00 per person
The Golden Raccoon @ Cauley Square 224th Street & US1
On this day wear your fairy best or come as you are for a fairy good time in the beautiful gardens of The Golden Raccoon in Historical Cauley Square Village.
with special guest, the Tropical Fairy herself, Atena Komar
The Golden Raccoon @ Cauley Square 224 & US1 – 786-307-5575
We will also have available for purchase beautiful wings made by Atena.
11:00am Fairy Spotting
We all know where to spot fairies on the English country sides, or in the highlands of Ireland , but did you know that fairies live amongst us right here in beautiful sunny Florida ? We will talk about the type of vegetation tropical fairies live in, how to spot their circles and find traces of their homes. Knowing how to find these spots gives you a better chance of spotting a real fairy.
Break and shop time… Grab a quick lunch or take the time to look for fairies in the Garden…
12:30 Meet Your Personal Fairy Guide Meditation
In the early afternoon we gather in the garden under the trees and cast a sacred fairy circle in which you will be anointed with juniper oil and perform a meditation to meet your fairy guide. This is a meditation in the garden guided by Atena.
1:15pm Fairy Photos
Get your magical photo custom made by Atena Komar. She will take several photos of you in the garden, and then magically transform you to the fairy realms – what a beautiful souvenir of your fairy experience. This is a link to some samples of Atena's Fairfield photos: http://TropicalFairy.com
Break and shopping time…
4:00 Fairy Altar and Offerings.
Now that you have learned how to communicate with the fairy folk, learn how to build them an altar by which to honor them and invite them to your garden or home. We will also discuss the kind of things you can leave them as offerings or gifts and how to be sure you only attract the kind and loving fairy folk.
1 hour break and shopping time…
6:00pm Manifesting Fairy visualization
The night fairies are one of the most powerful allies you can have in helping you manifest your hearts desires. These magical beings of the night love to tend to our hopes and dreams but rarely have a clue of what we really want. In this guided meditation, Atena will guide though a visualization where you can contact your manifesting fairies and make a wish for your self and mother earth, charge a crystal with their magical blessing and keep it on your own Fairy Altar. Bring a crystal or purchase one here.
Break and shopping time…
7:00pm – 8pm – Fairy Types and Appearances
When one says the word fairy, a typical image comes to mind of a fairy that resembles a character Disney would envision. Though flower fairies are abundant, did you know that the fairy kingdom consist of also elves, water earth air and fire fairies, night fairies and light fairies. There are fairies of dreams and even gargoyles are part of the fairy family… Atena will explain a little about the differences between these species and what they all do. Also dispel some fairy misconceptions and explain why some fairies are thought to be evil.
7pm – Closing Fairy shopping spree, special sale to the fairy graduates from 7pm to closing time (9pm).
Join us at The Golden Raccoon for a magical day of frolicking with the fairies!
Registration is important to assure there will be room for you, if you can please register with the Golden Raccoon!
To register, please contact Ayessa (The Magical Fairy) at 786-307-5575