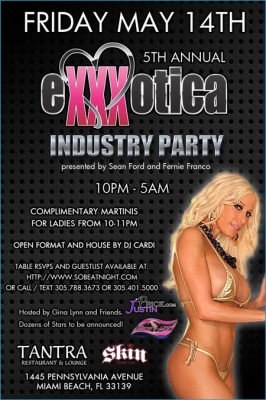 SPECIAL EVENT:
5th Annual Industry Party
Friday Night, May 14th, 2010
To place yourself on the guest list, click here.
Tantra has a limited capacity, to purchase a VIP table, call 305.788.3673.
GUARANTEE YOUR VIP EXPERIENCE BY RESERVING YOUR VIP TABLE TODAY.
CALL or TEXT 305.788.3673 or visit http://SeanFord.com to RSVP.
For more information, please call/text Sean Ford at 305.788.3673.
2010 marks the 5th annual edition of the Official eXXXotica Industry Party by Sean Ford and Fernie Franco Last year's party was so much fun we needed a venue capable of making this the biggest party yet. What better place than Tantra? Home of our famous Saturday SPOT parties for years, this venue offers that VIP feel that this event deserves.
Special VIP access will be available to those who place themselves on the official guest list at SeanFord.com.
Miami Nightlife