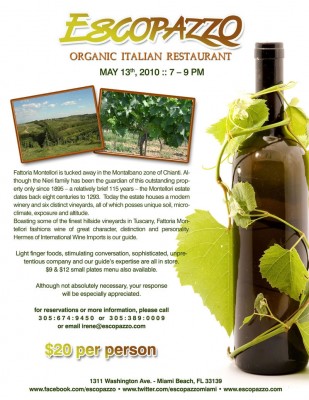 We Do It On Thursdays! Escopazzo Organic Italian Restaurant
May 13, 2010, 7 – 9 PM
Escopazzo Organic Italian Restaurant | 1311 Washington Avenue, South Beach
Escopazzo Organic Italian Restaurant
1311 Washington Avenue
Miami Beach, FL 33139
www.Escopazzo.com
We Do It On Thursdays!
Every Thursday, from 7 – 9 PM, Escopazzo Organic Italian Restaurant invites you to a relaxed social evening of wine, light finger foods, stimulating conversation, sophisticated, unpretentious company and the expertise of one of our many partners in wine.
The theme is casual and the wines are presented with knowledge and personal experience.
$20 per person includes light finger foods, four wine tastings, stimulating conversation, relaxed atmosphere :: featured wines @ $6 / glass :: $9 & $12 small plates menu always available
For reservations or more information please call 305 674 9450 or 305 389 0009 or e-mail irene@Escopazzo.com
This Week:
Fattoria Montellori – Chianti DOCG 2005
Fattoria Le Caselle – Chianti DOCG 2005
Fattoria Montellori – Super Tuscan "Salamartano" 2003
Fattoria Montellori – Rosso Toscano "MORO" 2004
Fattoria Montellori is tucked away in the Montalbano zone of Chianti. Although the Nieri family has been the guardian of this outstanding property only since 1895 – a relatively brief 115 years – the Montellori estate dates back eight centuries to 1293. Today the estate houses a modern winery and six distinct vineyards, all of which posses unique soil, microclimate, exposure and altitude. Boasting some of the finest hillside vineyards in Tuscany, Fattoria Montellori fashions wine of great character, distinction and personality. Hermes of International Wine Imports is our guide.