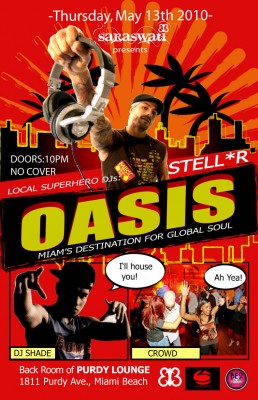 Stell*R and Shade are rocking the house this Thursday, May 13 at Oasis. Get ready to sweat!
Back room of Purdy Lounge
1811 Purdy Ave, Miami Beach
Pablo Lucero aka DJ StellR started playing music in 2002, djing open format at lounges and restaurants all around Miami. His appreciation for diverse world sounds, with musical ingredients from the Middle East, Africa, Jazz, Salsa, R&B, Soul, Latin Jazz, Funk and rare grooves brought him to the inevitable discovery of Global Soul.
Check out the interview with Stell*R at: Saraswati Miami
To get a little taste of what to expect from Stell*R's set at Oasis this Thursday Click here.
Miami Nightlife