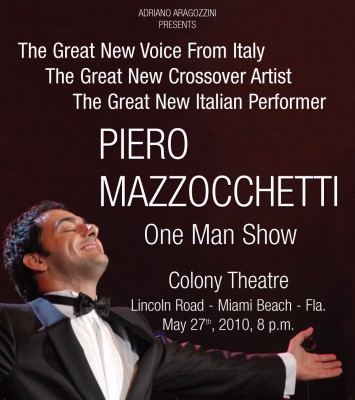 Critically acclaimed Italian tenor Piero Mazzocchetti performs at Lincoln Road's Colony Theatre
Italian Performer Piero Mazzocchetti in concert
Colony Theatre, 1040 Lincoln Road, Miami Beach FL 33139
Thursday, May 27, 2010 at 8 p.m.
Tickets are $35 and can be purchased here.
Italy's newest and most critically acclaimed tenor Piero Mazzocchetti brings his one man show to Miami Beach's Colony Theatre for one night only on Thursday, May 27 at 8 p.m. Adriano Aragozzini Production presents the concert for Dharma in collaboration with Italy-America Chamber of Commerce Southeast.
Mazzocchetti has been touted as Italy's greatest crossover artist to hit the charts since Pavarotti. The larger than life tenor himself commented on the 32-year-old rising star's vocal abilities in 2007 stating during an interview with Turin's La Stampa Newspaper, " he has a beautiful voice. Yes, really beautiful. Very interesting."
About Colony Theatre:
The beautiful Art Deco-style Colony Theater first opened in 1934 as part of Paramount Pictures' movie theater chain. The Colony was transformed into a performing arts theater in 1986, it recently emerged from a dramatic three-year, $6.5 million renovation/restoration to reclaim its place as the regions' premiere mid-sized performance space.
About Italy-America Chamber of Commerce Southeast:
Since 1991, the Italy-America Chamber of Commerce Southeast has supported Italian entrepreneurs and companies in their business endeavors in this global hub. The IACC has registered significant growth in recent years, successfully establishing itself as one of the most important Italian Chambers in the U.S.
About Adriano Aragozzini:
He began his career as a personal manager working for acclaimed Italian artists and contributed to the worldwide success of Mario del Monaco and Gina Lollobrigida. In the last twenty years Adriano Aragozzini has produced and organized over one hundred and fifty events in Italy and abroad.