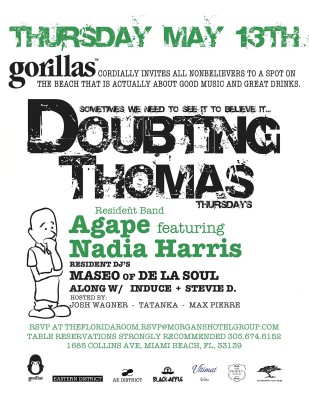 doubting Thomas
5/13/2010, 11:00 pm
Florida Room at the Delano Hotel
1685 Collins Ave, Miami Beach, FL, 33139
http://www.facebook.com/event.php?eid=112918038750552
-Thursday, May 13.
-Gorillas cordially invites all nonbelievers to a spot on the beach that is actually about good music and great drinks.
-Sometimes we need to see it to believe it.
…DOUBTING THOMAS @ the Florida Room
-Resident band Agape feat. Nadia Harris
-Resident DJ's Maseo of De La Soul along with Induce and Stevie D.
-RSVP at the Florida Room. RSVP@morganshotelgroup.com
-Table reservations strongly recommended 305.674.6152