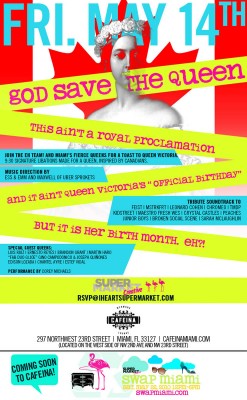 Join us at Cafeina for "God Save the Queen!" – Friday, May 14 @ 9:30pm
Your favorite "Fab Duo GI.JOE" (aka Gino and I) are co-hosting a party on Friday at Wynwood hotspot, Cafeina.
Snap for the kids! The theme is "God Save the Queen" as we are celebrating all things royal. There will be complimentary cocktails from 9:30 to 10:30 p.m. and complimentary valet is offered.
There is also going to be a special performance by international dance/pop recording artist Corey Michaels.
Please make sure to Google Map the address before leaving your house because finding this spot can be hard.
297 Northwest 23rd Street. Miami, FL 33137.
Hope to see all of you there!
Miami Nightlife