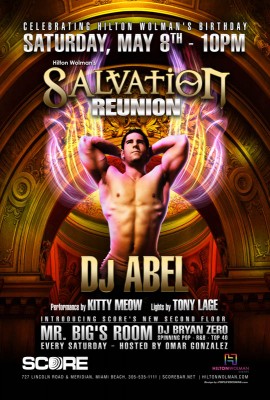 This Saturday, May 8th at 10pm, help celebrate Hilton's Birthday at the Salvation Reunion Party.
DJ Abel will be spinning a mixture of the latest music and many of the familiar classics and diva vocals from the Salvation era, often updated with brand new remixes so that the party always feels fresh and new.
One of Salvation's original Diva's, Kitty Meow, will be performing on Score's exciting new suspended stage, that retracts up to the roof when not in use. If you haven't been to the club recently you are in for a pleasant surprise.
On the second floor, Omar Gonzalez will be hosting Mr Big's Room with music by Bryan Zero, spinning pop, R&B and top 40.
This is traditionally one of the busiest parties of the year so please get there early so that you are not kept waiting outside.
Hilton will be giving away 2 Mark Baker Weekend Passes to the Wonderland events in Orlando – visit www.MarkBakerEvents.com for more details. Make sure you look for the iPads to sign up for this drawing.
Miami Nightlife