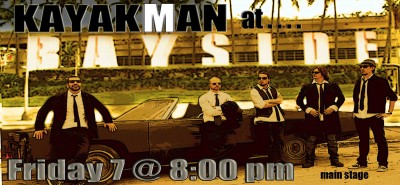 KAYAKMAN arrives at BAYSIDE
Friday 7, 2010, From 8:00pm to 12:30am
BAYSIDE main stage
401 Biscayne Blvd., Miami
www.kayakmanband.com
ITs a free show for all ages, styles and faces.. Come join us the night of Friday 7th where we will be recording our new CD "KAYAKMAN LIVE" its a fun time, its a cool time, its KAYAKTIME!!
DONT MISS IT!
BRING ALL UR FRIENDS!