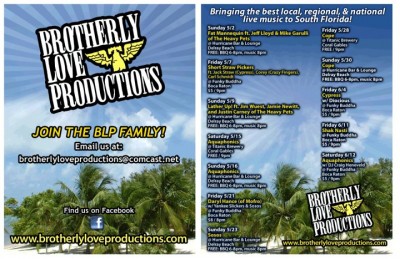 BROTHERLY LOVE PRODUCTIONS TAKES OVER SUNDAY NIGHTS
AT THE HURRICANE BAR & LOUNGE IN DELRAY BEACH
Free barbeque and music from the areas most talented local and regional acts
Culminating a ten-year friendship including several successful Sunday night shows, Brotherly Love Productions (BLP) has been invited to take over Sundays at the Hurricane Bar & Lounge in Delray Beach. A favorite to locals and in-the-biz types, the Hurricane provides a FREE BBQ from 6-8 PM to anyone joining their chill vibe and a variety of FREE live music to anyone looking to open an ear and shake their rear. The month of May is booked solid with some of the best local talent complimented with acts from around the region. The weekly party kicks off Sunday, May 2 with BLP's friends Fat Mannequin, a guitar duo that has been jamming together for 15+ years.
May Schedule
May 2, Fat Mannequin (Fort Lauderdale) ft. Jeff Lloyd and Mike Garulli of The Heavy Pets
May 9, Lather Up! (Fort Lauderdale) ft. Jim Wuest, Jamie Newitt and Justin Carney of The Heavy Pets
May 16, Aquaphonics (Fort Pierce)
May 23, Sosos (Fort Lauderdale)
May 30, Cope (Tampa)
Free BBQ takes place from 6-8 PM with music starting at 8 PM. Admission is FREE.
Hurricane Bar & Lounge
640-7 East Atlantic Avenue
Delray Beach, FL 33483
For more information on Brotherly Love Productions please visit www.brotherlyloveproductions.com.