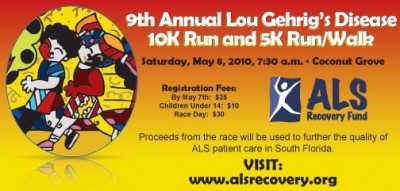 In memory of my father and others, please help fund ALS research, education and family care by participating in one of two upcoming events, May 8th and May 16th.
9th Annual
ALS Recovery Fund 10K Run & 5K Run/Walk
Saturday, May 8th, 2010
Sign up now for the 9th Annual ALS 10K Run & 5K Run/Walk on Saturday May 8, 2010 in Coconut Grove.
Dinner Key Auditorium – South Bayshore Drive
3500 Pan American Drive Fees
5K & 10K (General): $25.00
5K and 10K (14 and under): $10.00
Registration Closing Date: Friday, May 07, 2010 @ 1:00 PM
Online Registration and More Information
Runners get a chance to experience vibrant and picturesque Coconut Grove as the sun is coming up. This race features both a 5K and a 10K that will take participants throughout Coconut Grove.
Packets will be available for pick-up on Monday, May 3rd to Friday, May 7th during store hours, except on May 7th which will ONLY be until 4:00 PM at Footworks (5724 Sunset Drive, South Miami).
If registering online, packets will NOT be available until the following day. If registering online on Friday, May 7th, your packet will NOT be available until race morning, May 8th.
Awards will be give to the top three overall (male/female) and top three (male/female) in various age categories.
Achieve preset fundraising levels and receive your choice of valuable prizes. Please visit www.alsrecovery.org to set up your individual team fundraising page.
Race day registration will be available from 6:00 AM to 7:15 AM. *All races are subject to capacity limits and may close at anytime.
Race day fees will be $30.00 for all race day registrants.
Post-race results will be posted at www.runmiami.com
Race proceeds are allocated to assist patients in the tri-county area living with ALS. Working closely with the medical community, we have helped numerous persons with ALS obtain the proper care and equipment that they would not otherwise have been able to afford.