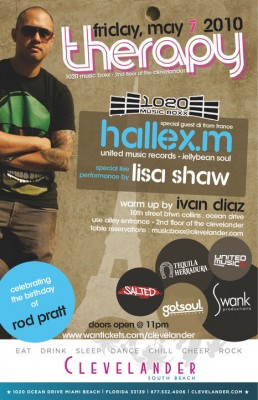 THERAPY
May 7th 2010, 11PM
1020 Music Boxx
1020 Ocean Drive, South Beach 33139 (entrance on 10th between Ocean and Collins)
More Info
HALLEX.M – In terms of the house sound rooted in NYC tradition, Hallex.M is without a doubt amongst the top DJs, producers and promoters out of France since 1996.
Alongside his event booking and record label, United Music, Hallex.M has played alongside all the greats in his field, including Jazzy Jeff, Derrick May, Osunlade, Ultra Nate, Mr. V, Rocco, AME, Dixon, Boddhi Satva, Paul Johnson, Glenn Underground, Karizma, Spen, Quentin Harris, Laurent Garnier, Terry Hunter, Jamie Lewis, The Martinez Brothers, Kiko Navarro, Claude Monnet, Dj Meme and many more.
Having DJ'ed in just about every biggest clubs "Djoon (Paris/Fr), Palm (Las Vegas/Usa), Cielo (New York/Usa), Pink (San Francisco/Usa), Atlantis (Bale/Switzerland), Bataplan (Spain), Cuisine (Manila/philippin), Barrio Latino (Paris/Fr), Green Dolphine (Chicago/Usa), La Marquise (Lyon/fr)…and other cities in the Americas, Asia and Europe, it was only a matter of time until his silky smooth house sounds wound up on loom's dance floor.
DISCOGRAPHY :
> dunnEASY Featuring Monique Bingham – Won't Stop ( Hallex.M remix ) Jellybean Soul
> dunnEASY featuring KENNY BOBIEN – Summer Night ( Hallex.M remix ) Jellybean Soul
> SoulChild – Rain On Me ( Hallex.M remix ) United Music Records
> Kentphonik – Sunday Showers ( Hallex.M Re-edit ) Stalwart records
> Hallex.M – Mi Casa ( Original mix ) United Music Records
> Hallex.M & Loïc.L – Hungaya ( Original and dub mix ) Priti Soul records ( june 2010 )
> Marissa Guzman – Now I See ( Hallex.M remix ) Jucy Lucy records ( june 2010 )
LISA SHAW – Her warm, sexy vocals have graced many a house music track, but Lisa Shaw's name is still fairly obscure. She's a "house diva" – owner of an anonymous voice that soars above crowded dancefloors at 2 a.m., enchanting listeners, only to disappear a few minutes later. Anyone who's ever gone clubbing has probably heard her – probably more than once. Shaw is nearly ubiquitous in the house music scene. She's collaborated with many famous producers, and has appeared on countless compilations. And finally, in 2001, she began to make tentative steps toward the spotlight.
In 2009, Lisa brings you her second album "Free" being released on Salted Music. "FREE" showcases Lisa's illustrious voice through a well crafted journey of soulful vibes and bouncy gems, with producers Dave Warrin, Miguel Migs, and Tim K keeping it moving. New House-Classics "Feel" and "All Night High" are supported by chill-inducing down-tempovbeauties like "Better Days", "Honey", and new Dance-Floor stompers "Music In You" and "Like I Want To."
Lisa Shaw has been a proven staple in the deep house world. She helped define an era with her releases on Naked Music, and continues to create timeless gems."FREE" takes it back to the basics, while "sweet and simply" taking it beyond.
IVAN DIAZ – Local Miami secret has been hidden and flying under the radar for the last couple of years. This 25th Anniversary of WMC definitely brought out the "IVAN" in Ivan and showcased the best in a showman behind the controls of the deepest,dirties, most funky and afronic beats. Ivan is set to take over not only his little world but yours too…he's a 'don't miss', not to miss !!!!
DOORS 10:00PM – $20
COMP GUESTLIST UNTIL 1:00AM – $10 REDUCED ON GUESTLIST TILL 2:00AM – $20 after if we are not at capacity.
FOR GUESTLIST PLS EMAIL SWANKPRO@GMAIL.COM