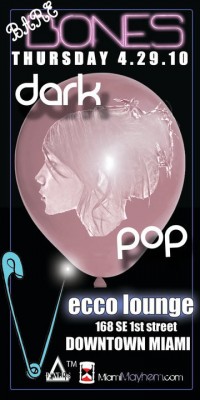 BARE BONES Presents DARK POP @ ECCO LOUNGE 4/29/2010
4/29/2010, 10:30pm
Ecco Lounge 168 SE 1st Street Miami
Facebook Event Page
THURSDAY APRIL 29th 2010
Professional Time Traveler Norman V invites you out to a night of Perfection.
(THEME NIGHT//COME DRESSED HEAVY METAL DARK OR COME IN YOUR DISKO DANCING POPPY ATIRE)
BARE BONES at ECCO LOUNGE
Enjoy the weekend early.
Sexy Mod fun for locals and visitors alike.
Underground Elitest encouraged.
Outlandish pop culture inspired.
eddy darko (Bandits)
+SURPRISE GUESTS::::
Josh Pocket Change Lekach
Mike Deuce
Aramís Lorié
LADIES DRINK FREE 11pm-12am
Powder those beautiful cheek bones. Or wear them Bare
Ecco Lounge 168 SE 1st Street Miami
Private elevator entrance.
– 7,000 sq feet of private, secure lounge, club space.
– Several private areas off the main room.
– A fully loaded main bar
– Stage area for live entertainment
Located near the well traveled and popular nightlife in downtown miami.
web:Â  http://banditsparty.com
Group: http://www.facebook.com/group.php?gid=87413480137&ref=ts