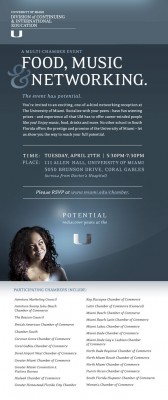 Food, Music & Networking.
The event has potential.
You're invited to an exciting, one-of-a-kind networking reception at The University of Miami.
Socialize with your peers – have fun winning prizes – and experience all that UM has to offer career-minded people like you!
Enjoy music, food, drinks and more. No other school in South Florida offers the prestige and promise of the University of Miami – let us show you the way to reach your full potential.
TIME: TUESDAY, APRIL 27th | 5:30 PM – 7:30 PM
PLACE: Allen Hall, University of Miami
5050 Brunson Drive, Coral Gables
(across from Doctor's Hospital)