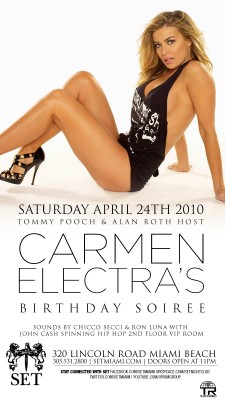 Saturday, April 24th
Carmen Electra's Birthday Soiree
INFORMATION \\ RESERVE
Tommy Pooch & Alan Roth invite you to come celebrate Carmen Electra's Birthday with a fabulous soiree at SET Nightclub on Miami Beach. Enjoy the best in House music and Open Format from resident DJ Chicco Secci and Ron Luna along with John Cash spinning an amazing set of Hip Hop in the upstairs VIP room. Join us this Saturday and party along with the beautiful and talented Carmen Electra at her birthday soiree this Saturday at SET.
320 Lincoln Rd
Miami Beach, FL 33139
Miami Nightlife