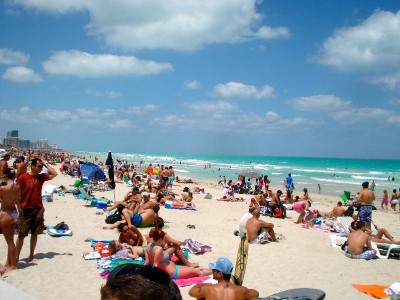 Earth Week Celebration Beach Cleanup and Free Electronic Waste Collection
April 24
BEACH CLEANUP
9:30 am to 11:30 am
Please join Commissioners Michael Gongora and Jerry Libbin, ECOMB, the Surfriders Foundation, ePlanet eWaste, Smith & Wollensky, Marriott South Beach, SoFi K-9 and other great community volunteers on another Beach Cleanup event as we celebrate Earth Day.
All cleaning materials will be supplied. Volunteers will meet to register at 9:30 am at the Marjorie Soneman Douglas Park, between 2nd and 3rd Streets, on Ocean Drive. Beverages will be provided during registration and lunch will be provided by Smith & Wollensky after the beach cleanup.
9:30 – 10 AM: Light breakfast and Registration
10:00 – 11:30 AM: Beach Cleanup
12:00 – 1 PM: lunch provided by Smith & Wollensky
Bring your family and friends!
FREE ELECTRONIC WASTE RECYCLING
9:30 am to 4:30 pm
Bring all you e-waste, working or not, to the cleanup site and ePlanet eWaste will recycle them for you.
DROP-OFF TIMES
9:30 AM TO 4:30 PM