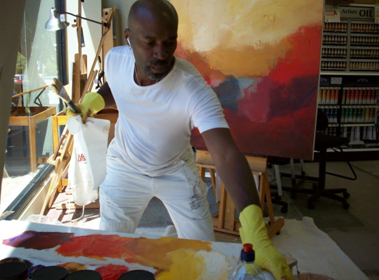 The Artist Hines
Intuitive Abstract Painting with Acrylics
"The allure of painting abstractly is that it allows the artist to radically express his individuality while at the same time enjoy a painting process that is both physically and emotionally exciting!"
April 22nd, 2010 6-9PM
Bakehouse Art Complex, Classroom
Limited Seating, Please Come Early
This is a FREE event
Intuitive Abstract Painting With Acrylics will show you how to literally "let go" of your conscious mind and begin painting from within. Utilizing your intuitive powers you will learn how to get past your fears and find the freedom to allow your inner self to dance on the canvas.
The presentation will cover:
· Painting without fear
· An overview of acrylic paints and their versatility
· Canvas preparation
· Pictoral Composition
· Taking advantage of the quick drying time
· Focusing your left brain on your palette and your right brain on your canvas
· How to utilize a limited five color palette
Come and enjoy a truly inspirational and spiritual experience full of techniques that will help you produce quicker more dynamic abstract paintings.
Bakehouse Art Complex
561 NW 32nd Street
Miami, FL 33127
305.576.2828
www.bacfl.org