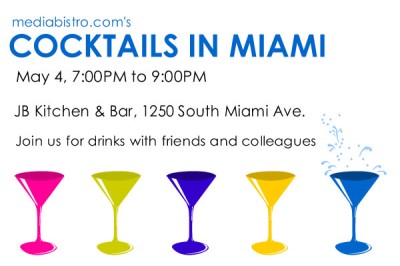 Tuesday, May 04, 2010 from 7:00 PM – 9:00 PM (ET)
JB Kitchen & Bar
1250 South Miami Avenue
(between SW 12th & SW 13th Streets)
Miami, FL
Food/Drink: First drink provided by JB Kitchen & Bar, cash bar to follow
Hosted by: Kreps De Maria PR account executive Ana Maria Colmenares and Paula Niño
RSVP NOW
mediabistro.com is dedicated to anyone who creates or works with content, or who is a non-creative professional working in a content/creative industry. That includes editors, writers, producers, graphic designers, book publishers, and others in industries including magazines, television, film, radio, newspapers, book publishing, online media, advertising, PR, and design. Our mission is to provide opportunities to meet, share resources, become informed of job opportunities and interesting projects and news, improve career skills, and showcase your work.