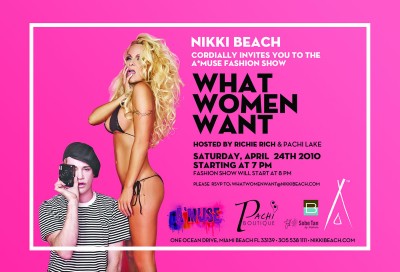 Nikki Beach and What Women Want Present the A*muse Fashion Show Hosted by Richie Rich
On April 24th, 2010
Nikki Beach and Richie Rich host a night of fashion as part of the "What Women Want" event series Featuring the A*muse Collection.
What Women Want presents the A*muse Fashion Show
Saturday April 24, 2010, 7pm to 11pm
Nikki Beach
One Ocean Drive 33139
Nikki Beach, Richie Rich, and Pachi Lake host a night of fashion as part of the "What Women Want" event series Featuring the A*muse Collection by Richie Rich & Pamela Anderson and 'Inspiration " by Pachi Lake.
Enjoy manicures, facials, cupcakes, makeup, hairstyling, and gift bags with RSVP!
Complimentary entrance with RSVP to: whatwomenwant@nikkibeach.com
Global luxury lifestyle entertainment group Nikki Beach partners with Richie Rich and A*MUSE on April 24th, 2010 for an extravagant evening of fashion, champagne and sweet treats! The event will be hosted by the Famous Designer Richie Rich, Pachi Lake and Hardy Hill. Nikki Beach signature series of successful fashion events concept "What Women Want", is a unique concept spread out over a series of fashion events each month.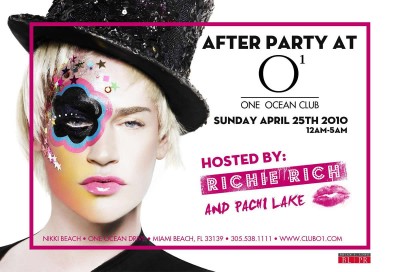 In what will be the most anticipated Saturday night out in Miami, every month Nikki Beach will pick and promote a favorite brand by creating a one-of-a-kind fashion event featuring the new collection along with a pop-up boutique on-site. Targeting the ultimate fashionistas, trendsetters and influential elite, all part of Nikki Beach's existing clientele, this concept will draw the best crowd in town. In true Nikki Beach style, the event will be centered around champagne, sweets and shopping indulging every woman's guiltiest pleasures.
The event will kick off at 7 p.m. with complimentary cupcakes, giant chocolate fountain with a variety of complimentary beauty treatments.
At 8 p.m. Richie Rich will present the A*MUSE Spring collection.
VIP guests will receive complimentary gifts by sending their RSVP.
To RSVP please e-mail whatwomenwant@nikkibeach.com.
For more information on What Women Want visit www.nikkibeachlifestyle.com.
For more information on Nikki Beach, please visit www.nikkibeach.com.