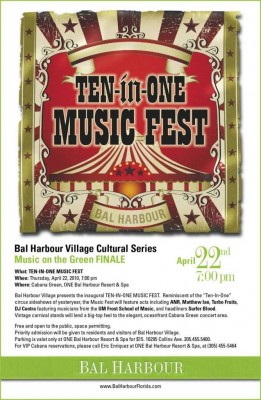 Concert On The Green Finale Features "Ten-in-One Music Fest"
Apr 22nd
Time: 7PM
Address: One Bal Harbour Resort & Spa, The Cabana Green
Thursday, April 22nd at 7 p.m.
Bal Harbour Village presents the inaugural "TEN-IN-ONE MUSIC FEST"  featuring a program of acclaimed Indie bands along with an eclectic array of talented classically trained local student musicians. Reminiscent of the Ten-In-One carnival sideshows of yesteryear where ten sequential acts appeared under the same roof, Bal Harbour's "Ten-In-One Music Fest" will feature multiple acts and bands, culminating with Indie darlings Turbo Fruits followed by headliners and hometown heroes Surfer Blood.
Located on Bal Harbour Beach behind ONE Bal Harbour Resort & Spa.
Parking is VALET ONLY at ONE Bal Harbour Resort & Spa. Located at 10295 Collins
Ave./305.455.5400.