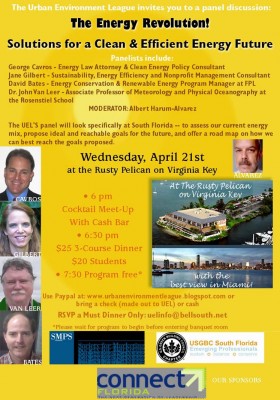 Please join Connect Florida and The Urban Environment League for a panel discussion on "The Energy Revolution!" Solutions for a Clean & Efficient Energy Future.
The event will take place Wednesday, April 21st at 6pm at the Rusty Pelican on Virginia Key.
UEL DINNER FORUM – April 21st
The Urban Environment League invites you to: The Energy Revolution!  Solutions for a Clean & Efficient Energy Future
Cost (including a fabulous three-course dinner and a panoramic, sunset view of downtown and Biscayne Bay): $25 -($20 for students)
Cocktails 6
Dinner starts 6:30
Program Itself is free at 7:30.
http://urbanenvironmentleague.blogspot.com
On April 21, 2010, the Urban Environment League will be hosting another one of their informative monthly dinner programs. During the environmentally conscious month of April, the organization will be focusing on Energy, and what it means to be 'sustainable' in South Florida.
'Energy Revolution' will consist of a dynamic panel of energy experts and industry leaders that will look specifically at South Florida to assess the current energy mix, propose ideal and reachable goals for the future, and offer a road map on how Floridians can best reach the goals proposed.
Panelists will discuss how the modernization of the nation's electrical grid will help Americans be more energy efficient and assist in the transition from a reliance on fossil fuels to renewable energy sources. The Energy Smart Miami initiative will serve as a local example of a tool that is being used to help lead the nation towards a sustainable energy future.