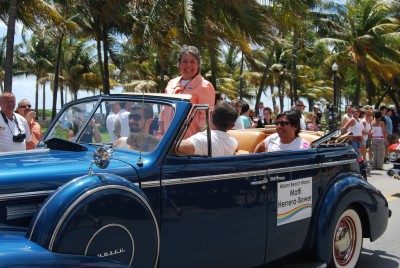 CITY OF MIAMI BEACH IS PROUD TO SUPPORT MIAMI BEACH GAY PRIDE FESTIVAL AS AN EVENT SPONSOR
25/7 Street Team to March in Parade; Expo Booth to Hold Drawing
Miami Beach is Proud. So proud, in fact, that the city needs an extra hour each day to tell its LGBT residents and visitors that it's one of the most accepting and diverse cities in the world. That's the message behind "Miami Beach Proud 25/7," the theme of the city's sponsorship of the Second Annual Miami Beach Gay Pride, Saturday, April 17, 2010.
"Miami Beach has a long and strong history of acceptance and progressive attitudes toward the LGBT community," said City Manager Jorge M. Gonzalez. "In addition to being a top destination for LGBT travelers, we have a proud history of supporting our LGBT residents and businesses, including a domestic partnership registry, a Gay Business Development Committee, and one of the strongest human rights ordinances on record of any city."
For the Miami Beach Gay Pride Parade, which kicks off at noon on Ocean Drive from 5th to 15th Streets, Gonzalez said the city will participate by fielding a street team, led by legendary drag diva Miss Elaine Lancaster, and complete with a large banner and body-painted marchers harnessed to giant "Miami Beach Proud 25/7" balloons. Members of the street team will also interact with spectators along the parade route and distribute 25/7 Proud fans, temporary tattoos and sunscreen samples, all designed to remind residents and visitors that there's so much shopping, dining, staying, playing and discovering in Miami Beach they need an extra hour.
Following the parade, and until 6 p.m., the City of Miami Beach will have a major presence at the Gay Pride Expo on the sands of Lummus Park between 10th and 14th Streets. In addition to temporary tattoos, fans and sunscreen samples for visitors to the city's Proud 25/7 booth, Pride-goers can register for a grand prize drawing for two round-trip airfares, courtesy of the Greater Miami Convention and Visitors Bureau, and two VIP tickets to New York Pride's Dance on the Pier, Sunday, June 27, courtesy of the City of Miami Beach.
Finally, for those who want to share their favorite "Proud 25/7 moment" – or any Miami Beach 25/7 moment for that matter – the City is hosting a Facebook photo contest where the winner will receive a two-night stay and spa treatments from the Shore Club. To enter the photo contest, log onto www.miamibeach25-7.com, click on the Facebook link at the bottom of the page, and upload a photo to the Miami Beach 25/7 fan page.
To develop the Proud 25/7 campaign, the City of Miami Beach again partnered with Cre8tiv Juice Group to develop branding strategy, and The Treister Murry Agency for public relations and social marketing. Both firms are based in Miami Beach.
For more information about the City of Miami Beach, to follow Miami Beach 25/7 on Twitter, or to fan 25/7 on Facebook, visit www.miamibeach25-7.com.
For more information on Miami Beach Gay Pride 2010, visit www.miamibeachgaypride.com.
Image from the 2009 Miami Beach Gay Pride Parade – Miami Beach Mayor Matti Herrera Bower. Photo credit: Sharon Kersten.