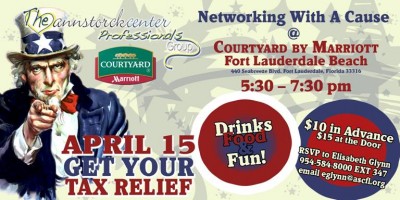 If you are free, please come join us at our Networking with a Cause event on Thursday, April 15th. The Ann Storck Center is an organization that  serves those with severe disabilities and if you went to the Festivus event at Mickey Byrne's in December, you'll remember how much fun there was to be had! There will be food and drinks as well as the famous game wheel to spin for prizes! Admission is $10 in advance and $15 at the door. Hope to see you there!
Come join the Ann Storck Center's Professionals Group & Get Your Tax Relief!
RSVP Today!
Valet Parking available for $5.00. Metered parking is available at the Fort Lauderdale Beach Parking Lot, located on the corner of Seabreeze Blvd. and Las Olas Blvd.