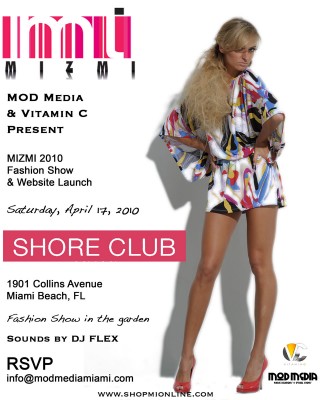 MOD MEDIA & VITAMIN C PRESENT: MIZMI SUMMER 2010 FASHION SHOW AND WEBSITE LAUNCH
SHOP MIZMI ONLINE!
Fashion House MIZMI presents the debut of their summer 2010 collection with a fashion show and website launch party, Saturday, April 17th, at Skybar Garden in the Shore Club Hotel. Guests are invited to celebrate alongside MIZMI's talented Fashion Designer, Danittza Zimic, a night of fashion and glam under the stars at the beautiful Shore Club gardens. Models will strut the runway in the latest 2010 collection featuring Grecian inspired garments made with light fabrics, sensual draping, turquoise and silver accents, as well as hand picked applications straight from Italy.
Apart from the fashion show, MIZMI will be proud to present the re-launch of their website www.shopmionline.com. " I never had a chance to even launch the website, we have been working on it for over a year now, and I really want it to be perfect!! I want all my clients to have the opportunity to own a MIZMI garment regardless where they live, " says MIZMI's successful Designer Danittza Zimic. With the launch of her new website, Danittza is able to present her latest collections, upcoming events, press hits, and photo shoots to her client base while also branding the boutiques that currently carry the line.
Event Details:
MIZMI 2010 Fashion Show & Website Launch
Saturday, April 17th, 2010 at 10:00pm
Skybar Garden
The Shore Club Hotel-1901 Collins Avenue, Miami Beach-FL. 33139
TO RSVP for the upcoming event please email info@modmediamiami.com
About Mizmi www.shopmionline.com
MIZMI clothing and accessories is an exclusive fashion label from Miami that has rapidly become a trademark for it's impeccable detail and bold fabrics.
Influenced by her Peruvian culture and the MIAMI lifestyle where she grew up, owner Danittza Zimic designs for the sophisticated and modern woman of today. Each design is handcrafted and produced in U.S. to ensure both quality and satisfaction. Maintaining a feminine flair, MIZMI features Charmeuse Silk, Silk Jersey, Chiffon and handpicked imported applications. Expected in 2010, MIZMI will launch a new Resort & Swimwear line. MIZMI is sold in select boutiques guaranteeing exclusivity to all MIZMI clientele.
About Vitamin C Communications www.vitaminccomm.com
Vitamin C Communications is a full-service marketing and events company with a vast network of contacts and affiliates which has produced some of the most revered and talked about events in the South Florida region. Year round we provide countless special events and specialize in bringing innovation and creativity to corporate and promotional clients associated with Miami social life.
About MOD Media LLC: www.modmediamiami.com
MOD Media LLC. is a full service public relations and special events firm based in Miami, FL. MOD Media is dedicated to representing brands in all aspects of the entertainment industry; such as Fashion, Beauty, Hospitality, and Corporate clients. MOD Media works diligently to meet the needs of their clients, and guarantees successful execution to all press and media outlets. MOD Media is a partnership between two talented young professionals and sisters, Jennifer & Christine Henry. These two accomplished females have combined their skill and knowledge to produce impeccable high profile events as well as extensive media representation for their clients.