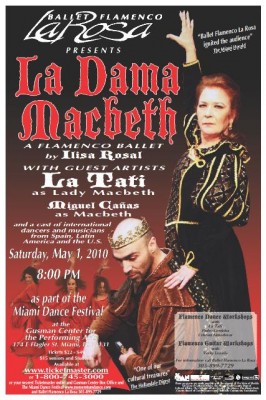 Ballet Flamenco La Rosa, an international Flamenco company based in Miami, is pleased to announce the world premiere of La Dama Macbeth, a flamenco Ballet inspired by the great Shakespearian Tragedy Macbeth. Ballet Flamenco La Rosa brings to life the classic themes of ambition, passion, loyalty, betrayal, rivalry, righteousness and greed, using Flamenco as a language to interpret the characters and relationships in this great play.
This production will incorporate live music, created and arranged by guest guitarists and singers from Spain in collaboration with company dancers and choreographers. Artists from the U.S, Latin America and Spain, led by the world renowned master teacher, choreographer and soloist La Tati in the title role, and with one of Spain's most sought after male dancers, Miguel Cañas, as Macbeth, bring to this production the spellbinding and earthy power of Flamenco dance at its best. With its spectacular footwork, precise athleticism and vibrant energy, Flamenco is at once sensual and spiritual, raw and refined, and filled with both restrained passion and electrifying release, making it a powerful language to interpret this timeless work.Under the direction of Ilisa Rosal, a stellar cast of international artists will create the characters of Shakespeare's drama.
The production will debut on Saturday May 1 at the Gusman Center for The Performing Arts 174 E Flagler St. Miami, Fl. at 8:00 pm as part of the Miami Dance Festival.
Ballet Flamenco La Rosa, also known as La Rosa Flamenco Theatre, is a professional company dedicated to Flamenco as an ever-evolving art form. The innovative and creative dancers of Ballet Flamenco La Rosa present Flamenco dance in a theatrical setting, expanding the art form beyond traditional limits to reach and enlighten students and audiences with its beauty and magic. A Miami based non-profit dance company, Ballet Flamenco La Rosa Flamenco has performed to sell out crowds and received critical acclaim in both the artistic mainstream and in the "Tablaos" (Flamenco Clubs) of Little Havana since 1985. Since then, the company has grown to a National and International reputation, with its pure Flamenco works, cutting edge cross- cultural collaborations and ground breaking dramatic Flamenco Ballets. The company offers audiences performances and workshops throughout it concert season, as well as daily classes for children and adults at all levels with this project, Master Classes will be offered with La Tati and Miguel Cañas, during the week preceding this performance.
For more information contact PAN, Performing Arts Network at 305-899-7730 or panmiami@aol.com
and Ballet Flamenco La Rosa at 305-899-7729 or rosalpanmiami@aol.com
Tickets $22 – $49
$15 seniors and Students
Available at www.ticketmaster.com