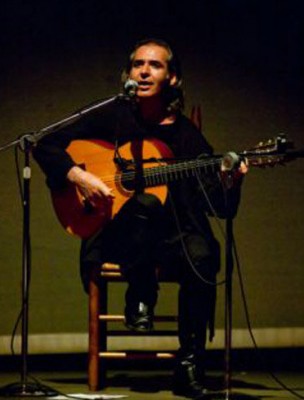 THE JEWISH ROOTS OF FLAMENCO
When: Wed., April 14, 7-9pm
Where: 4760 Pinetree Dr., Miami Beach 33140
TIX: Suggested donation: $5
Phone: 305-613-2325
Ballet Flamenco La Rosa Artistic Director Ilisa Rosal, and company singer/guitarist Paco Fonta, will present a lecture/demonstration on the Jewish Roots of Flamenco, as one of many offerings of the Guava Rugelach Festival at Temple Israel of Greater Miami.
A brief history of the development of the art of Flamenco and the influences that Jewish music and the Jewish experience in Spain had on the art form will be discussed, with examples of the music and vocals to illustrate.
PACO FONTA * SINGER AND GUITARIST
Paco Fonta met Ballet Flamenco Director Ilisa Rosal in Madrid in the early 1980's when they worked together at tablaos and festivals for several years.
When Ms. Rosal founded Ballet Flamenco La Rosa in 1985, Paco Fonta was under contract to a local flamenco club, and he joined the company. They have worked together ever since on the many interesting projects the company has produced and created a great following for the high quality and pure excitement and beauty of their work.
Mr. Fonta is a rare talent in that he has mastery of both the guitar and singing, and his performances give the public a unique and valuable insight into this style of music. Mr. Fonta is in demand as a singer and guitarist for Flamenco companies throughout the U.S., and has started his own group Siempre Flamenco.