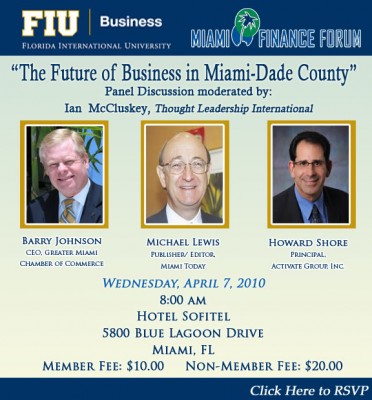 Miami Finance Forum is Proud to Be a Sponsor of FIU Leadership Breakfast Discussion on the Future of Business in Miami-Dade County, April 7th 8am at Hotel Sofitel
Miami Finance Forum is proud to be a sponsor for FIU Leadership Breakfast "The Future of Business in Miami-Dade County."
Join our moderator Ian McCluskey and our panel of business and community leaders: Barry Johnson, Michael Lewis and Howard Shore on Wednesday, April 7th at 8:00 AM in the Sofitel Hotel, 5800 Blue Lagoon Drive, Miami. They will share their not-often-heard insight and perspectives on the current and future business climate in our great community. The three leaders will also share their leadership experiences during these difficult times. We expect a great mix of mid to executive level professionals across many industries, many of whom are FIU grads, to join us for the breakfast.
Please register by following this link.