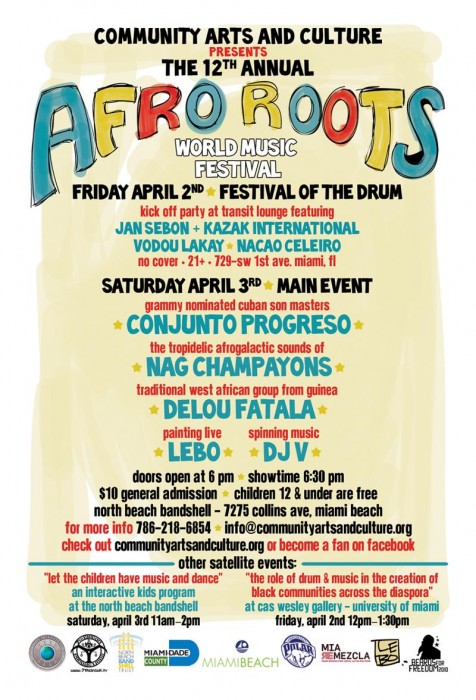 12TH ANNUAL AFRO ROOTS WORLD MUSIC FESTIVAL SET TO HIT THE STAGE APRIL 3RD WITH THE AFRICAN & CARIBBEAN RHYTHMS OF CONJUNTO PROGRESO, NAG CHAMPAYONS, AND DELOU FATALA INCLUDING LIVE PAINTING BY LEBO AND A VARIETY OF SATELITE EVENTS
Miami, FL – March 22, 2010 – Community Arts and Culture presents the 12th Annual Afro Roots World Music Festival, which celebrates the evolution of African culture in our community and music. Noted by many to be Miami's longest running world music festival, this event will feature artists from various African countries as well as artists from the Caribbean and the Americas.
Saturday, April 3rd – 6pm – 10pm | 12th Annual Afro Roots World Music Festival
North Beach Bandshell, 7275 Collins Avenue, Miami Beach
$10 Presale/ At the Door – Children Under 12 Free
CLICK HERE TO BUY TICKETS
Featuring: Conjunto Progreso, Nag Champayons, Delou Fatala
On Saturday, April 3rd, The Afro Roots World Music Festival main event will include Delou Fatala, a traditional West African group from Guinea, spearheaded by Master Balifonist Ibrahima Douibate. Also featured are the Nag Champayons whose coined phrase, afrogalactic tropidelic sounds, is catching on with audiences around the world. The group will be joined by special guests Itagui Correa and Mark Kondrat of two-time Grammy-nominated Locos Por Juana. Headlining this year's festival will be Grammy-nominated Cuban son group Conjunto Progreso who will be joined on stage by a variety of special guests. World renowned painter and Miami native, LEBO, will be painting live to the music, and DJ V will be spinning the sounds of the Caribbean in between sets.
SATELLITE EVENTS
Every year prior to the festival, we present a variety of free satellite events catering to all ages. This year's events include the following:
Friday April 2nd, 2010-12pm -1:30pm I Panel discussion
CAS Wesley Gallery, 1210 Stanford Drive, Coral Gables
University of Miami – FREE
The festival kicks off with a panel discussion and demonstration hosted by the University of Miami's Center for Latin American and Africana studies. The panel will focus on the role of the drum and music in the creation of black communities across the diaspora. The panel will be moderated by Dr. Edmund Abaka from Ghana. Featured panelist include Jan Sebon from Haiti, Ibrahima Dioubate from Guinea, Philbert Armenteros from Cuba, Adrian Castro from Cuba, and Jose Elias from the Dominican Republic.
Friday April 2nd, 2010 – 10pm – 2am | Festival of the Drum
Transit Lounge, 729 SW 1st Avenue, Downtown Miami – Free
Featuring: Jan Sebon and Kazak International, Nacao Celeiro and Vodou Lakay
Join us later that evening at Transit Lounge for the official kick off party for the festival, the Festival of the Drum. This year we'll be featuring a variety of acts from Haiti including folkloric roots band Vodou Lakay and renowned Haitian artist Jan Sebon and his global super group Kazak International. The night will get kicked off by Nacao Celeiro, a drumming troupe that plays an array of rhythms from the Northern regions of Brazil.
Saturday, April 3rd – 11am – 2pm | Let the Children Have Music and Dance
North Beach Bandshell, 7275 Collins Ave, Miami Beach – Free
Featuring members of Delou Fatala and Lucky Bruno
Early on Saturday, April 3rd, members of the group, Delou, and performance artist Lucky Bruno will be conducting a kids program featuring live music, dance, and art projects for the children. The highly interactive program will encourage children to play and dance. This event caters to children of all ages including at risk youth and children with disabilities.
For more information, please visit www.communityartsandculture.org or e-mail: info@communityartsandculture.org or contact festival director, Jose Elias at 786-218-6854.
OUR SPONSORS
The 12th Annual Afro Roots World Music Festival is made possible by the generous support of the Miami-Dade County Department of Cultural Affairs, the Cultural Affairs Council, the Mayor, and the Miami-Dade County Board of County Commissioners. The City of Miami Beach Cultural Affairs Program, Cultural Arts Council, Polar Beer, the North Beach Bandshell Trust, MIA Remezcla, Transit Lounge, and 7th Circuit Productions.
ABOUT COMMUNITY ARTS AND CULTURE
Community Arts and Culture is a 501(c)(3) non-profit organization established in September 2002 in Miami, Florida. The focus of Community Arts and Culture is to present the arts as a tool for education by promoting appreciation and understanding for a variety of arts and cultures while celebrating the diversity found in local communities.