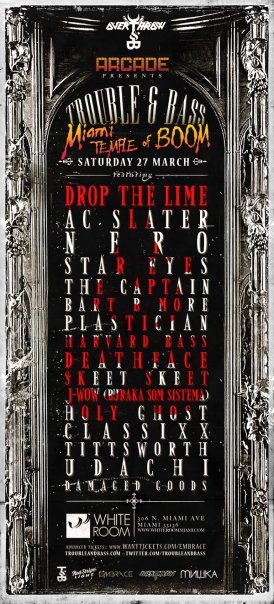 This year we are having our first Official T&B party in Miami for the Winter Music Conference! It's all going down Saturday March 27, 2010 at White Room as we team up with Overthrow, Arcade, and Mishka!
More Info
Guests include Nero, Bart Bmore, Harvard Bass, Deathface, Plastician, Udachi, J-Wow, Classixx, Tittsworth, L-Vis 1990, Dre Skull, Sonic C, Nadastrom and T&B Crew: Drop The Lime, AC Slater, Star Eyes, The Captain and more!
We're going to have tons of free stuff to give away, exclusive T Shirts with Mishka, new T&B Stickers, Mix CD's, Temporary Stickers, Towels, Totes and many more surprises!
ATTN: Devils, Dragons, Ragers, Ravers, Vampires + the rest of the Freaks out at night…
Overthrow + Arcade + Mishka Present: TROUBLE & BASS MIAMI TEMPLE OF BOOM!
Prepare to have your face bassed from The White Room to the Moon
SATURDAY//MARCH 27th//10pm-5am
Drop The Lime
Star Eyes
AC Slater
The Captain
Bart B More
Harvard Bass
Deathface
Udachi
Plastician
Nero
J-Wow (Buraka Som Sistema)
Skeet Skeet
Tittsworth
and more TBA!
GET TICKETS HERE