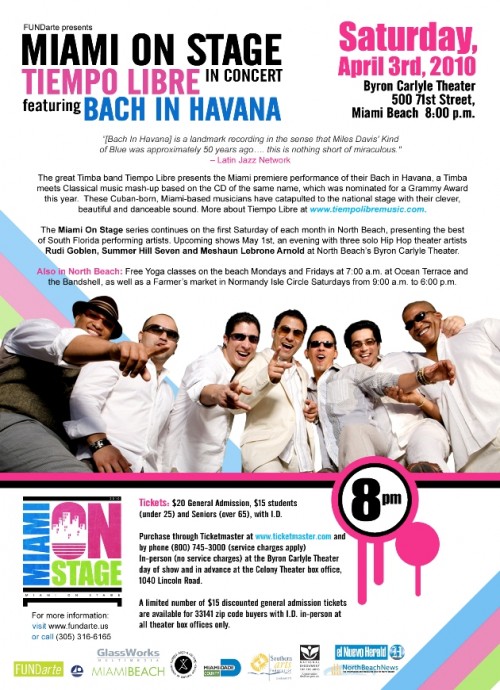 New "Miami On Stage" Series Continues With Tiempo Libre Performing "Bach in Havana" on Saturday April 3rd at the Byron Carlyle Theater
The new Miami On Stage project, which features local performing artists on a regular basis in Miami Beach's North Beach neighborhood, continues on Saturday, April 3 with the great timba band Tiempo Libre at the Byron Carlyle Theater. The evening features the Miami theatrical premiere performance of their Bach in Havana, a salsa meets Classical music mash-up based on the Grammy-nominated CD of the same name. The Miami On Stage series is produced by FUNDarte, one of South Florida's most adventurous and successful presenters of alternative culture, especially with a Latin flavor.
The Cuban-born, Miami-based musicians of Tiempo Libre have catapulted onto the national stage with their clever, beautiful and danceable sound. With Bach in Havana, they took their love of the contrapointal Baroque music of J.S. Bach (having all been classically trained) and found a way to meld with the tropical, Afro-Cuban rhythms and instrumentation they usually perform. The resulting work – tuneful, playful and musically adventurous – has garnered praise and awards after being released by Sony Music. Ever Chavez, Executive Director of FUNDarte, says that, "Tiempo Libre is a Miami treasure who, with their genre-bending Bach in Havana, has received global acclaim. The nurturing of local artists who can then tour their work throughout the world is one of our goals with the Miami On Stage project."
The Tiempo Libre concert begins at 8:00 pm at the Byron Carlyle Theater, located at 500 71st Street, on Miami Beach. Tickets for Tiempo Libre are $20 general admission, $15 students (under 25) & seniors (over 65) with I.D. Tickets may be purchased in advance through Ticketmaster at www.ticketmaster.com and by phone (800) 745-3000 (service charges apply). They are also available in-person at the Byron Carlyle the day of show and in advance at the Colony Theatre box office (1040 Lincoln Road, Miami Beach), Tuesday through Saturday, Noon to 5:00 pm (no service charges). A limited number of $15 discounted general admission tickets are also available for 33141 zip code buyers with I.D. in-person at both theater box offices only. More information about the Miami On Stage series and the upcoming Tiempo Libre concert can be found online at www.fundarte.us or by contacting FUNDarte at info@fundarte.us or (305) 316-6165.
Miami On Stage will continue on the first Saturday of each month, through June of this year. On May 1, again at the Byron Carlyle, there will be an evening with three solo Hip Hop theater artists, Rudi Goblen, Summer Hill Seven and Meshaun Lebrone Arnold. This program is co-presented with Miami Light Project. On June 5th there will be two performances Hilo,(Thread), by Jose Dominguez, directed by Lucia Aratanha, and Sipping Fury from a Teacup, created by Elizabeth Doud & Jennylin Duany and performed by Elizabeth Doud and Carlos Caballero. In addition to each Saturday's featured performance, there will be free tie-in events throughout the week in the North Beach neighborhood, including panel discussions with the artists, special programs for youth and outdoor activities. These will include free yoga classes on the beach Mondays and Fridays at 7:00 am at Ocean Terrace and 73 Street, as well as a Farmer's market in Normandy Isle Circle Saturdays from 9:00 am to 6:00 pm.